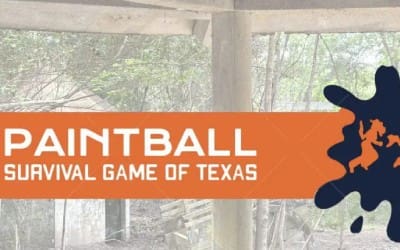 Celebrate Memorial Day Weekend Honoring Heroes:
PLAY PAINTBALL IN HOUSTON
Gear up and get ready for an adrenaline-fueled paintball extravaganza this Memorial Day weekend! We are absolutely thrilled to invite you to join us for a day filled with non-stop action and excitement. Whether you're an active military member or a proud veteran, this event is tailor-made specifically for you.
At this incredible paintball event, we have meticulously crafted an experience that will keep you on the edge of your seat from start to finish. Just imagine yourself darting through dense forests, expertly maneuvering around challenging obstacles, and strategically coordinating with your team to outwit and outmaneuver the opposition. It's an electrifying adventure that will thoroughly test your skills, agility, and quick thinking abilities.
FREE ADMISSION
But here's the best part – to demonstrate our profound gratitude and deep respect for your invaluable service, we are offering FREE admission exclusively to active military personnel and veterans. It is our heartfelt gesture to honor your unwavering dedication and selfless sacrifice. So seize this extraordinary opportunity to revel in a day of exhilarating paintball without the slightest concern about the cost.
Wait, there's even more! In addition to the epic paintball battles, we have an extensive range of exciting activities meticulously planned for you. Engage in thrilling tactical challenges, sharpen your aim with invigorating target practice sessions, and indulge in a friendly competition to determine the ultimate paintball champion. It presents a perfect chance to forge lasting bonds with fellow military members, veterans, and avid paintball enthusiasts while creating unforgettable memories.
To ensure that you do not miss out on this remarkable event, we implore you to promptly secure your spot by RSVPing today. As spaces are rapidly filling up, we want to guarantee you a coveted place amidst the exhilarating action. Come armed with your unwavering A-game, an unyielding spirit of camaraderie, and prepare yourself for an awe-inspiring paintball experience that will leave an indelible mark.
MAKE RESERVATION NOW
Join us this Memorial Day weekend for an exceptional occasion that seamlessly combines the heart-thumping thrill of paintball with a heartfelt tribute to our esteemed military heroes. It is an opportune moment to pay homage, celebrate, and indulge in an absolute blast. Delay no further – RSVP now and brace yourself for an unparalleled, action-packed adventure like no other! Please note that paintballs and air are not included.
Check out our videos https://survivalgameoftexas.com
HOURS OF OPERATION
FRIDAY -10:00AM-5:30PM
SATURDAY -10:00AM-5:30PM
SUNDAY -10:00AM-5:30PM
MONDAY -10:00AM-5:30PM
Check out our FACEBOOK
https://www.facebook.com/houstonpaintballfield